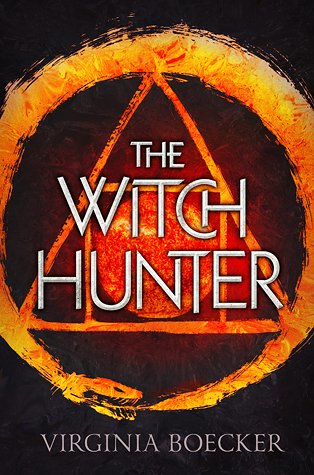 I received an ecopy of this book via Netgalley in exchange for an honest review.
Goodreads.com Description: "Your greatest enemy isn't what you fight, but what you fear. Elizabeth Grey is one of the king's best witch hunters, devoted to rooting out witchcraft and doling out justice. But when she's accused of being a witch herself, Elizabeth is arrested and sentenced to burn at the stake. Salvation comes from a man she thought was her enemy. Nicholas Perevil, the most powerful and dangerous wizard in the kingdom, offers her a deal: he will save her from execution if she can break the deadly curse that's been laid upon him. But Nicholas and his followers know nothing of Elizabeth's witch hunting past–if they find out, the stake will be the least of her worries. And as she's thrust into the magical world of witches, ghosts, pirates, and one all-too-handsome healer, Elizabeth is forced to redefine her ideas of right and wrong, of friends and enemies, and of love and hate. Virginia Boecker weaves a riveting tale of magic, betrayal, and sacrifice in this unforgettable fantasy debut."
My Thoughts:
Superb…well-written unique debut!
I loved reading Virginia Boecker's The Witch Hunter. I've read my share of books about witches. This was far from the usual fare of witches trying to stay away from executioners. I had not read anything about the executioners themselves. I would have never imagined an elite 'task force' within the king's army designated for capturing those practicing witchcraft. Genius!
Boecker presented readers with well-developed characters–Elizabeth Grey, John Raleigh, Nicholas Perevil, George and Fifer. Elizabeth, the young witch hunter, is a force to reckon with. She's strong, intelligent and willing to sacrifice herself for others. John, a young healer, has a heart of gold. You can't help loving him. I love Nicholas and his last name (looks like a play on the words 'pure evil'). He doesn't live up to the propaganda surrounding him. George and Fifer are great friends to have.
Even the villains are great in this prolific story! Lord Blackwell has a serious dark side that needs to be extinguished. He's deceptive and only has loyalty to himself. Caleb, the best friend with a new role, is more of an unwilling sidekick for Blackwell. He's the product of his own ambition.
Boecker's details were astounding. Anglia is medieval England. I was transported to that time period without much effort on my part. I could easily envision the town square, the witches chained to stakes and even the smelly, dank prison cell. It's obvious she did extensive research on this time period. The clothes, the building interiors and even the gardens read true.
I'm now wanting to read more about revenants thanks to Boecker. After reading about Schuyler you won't think about spirits the same way (there's a difference between a revenant and a ghost).
There is a valuable lesson in The Witch Hunter which Elizabeth learns towards the end–be careful who and what you believe in. I love how Boecker unfolded the message without constantly banging it over the protagonist's head.
If you haven't added The Witch Hunter to your must read list, what are you waiting for? It's a magical story full of suspense, betrayal and intrigue. I can't wait to read the next chapter in Elizabeth Grey's life!